Rwandans are among world's top consumers of beans as it is a preferred legume across livelihood zones and wealth groups. This staple is considered as meat for the poor or a near complete food, mainly due to its nutritious nature: common beans contain proteins, resistant starch, dietary fiber, vitamins and minerals.
Although growing climbing beans involves tedious work, climbing types have the advantage of yielding three times more than bush beans.

During my research we tested the effects of rhizobium inoculation and other soil amendments on yield of climbing bean. Yield was highest, reaching 4,782 kg/ha, when Inoculation+Cattle manure+DAP were all applied together and was smallest in the untreated control (2,640 kg/ha). Comparisons of data from farmers' fields and our own findings showed that farmers' yields were lower, though we had the same treatments. Differences in yield were most likely attributed to farmer management practices. This should attract the attention of extension services. Inoculation as an input for legume production in Rwanda is not yet well adopted; however, efforts are on course to engage all possible bean farmers.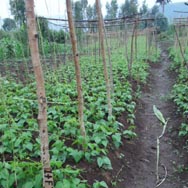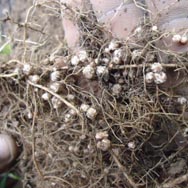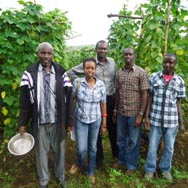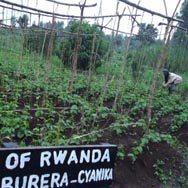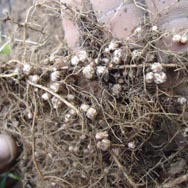 Climbing beans at various stages of growth: From our research trials in Burera District
Nadia Musaninkindi, Chemonics International Inc.
My sincere gratitude goes to The Alliance for Green Revolution in Africa (AGRA); who sponsored my MSc course and research works. I also enormously thank Kenyatta University staff, especially my supervisors and Rwanda Agriculture Board (RAB); my host farmer for their precious support.